Dec 13, 2022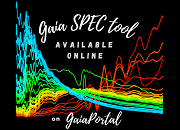 New GaiaSpecTool available on GaiaPortal@SSDC

The new GaiaSPECtool tab is now online!
Easy-to-use GaiaPortal combined with powerful GaiaXPy spectra handling!
This new tool is based on the official Python package GaiaXPy, developed and maintained by members of the Gaia Data Processing and Analysis Consortium (DPAC) and in particular, Coordination Unit 5 (CU5), and the Data Processing Centre located at the Institute of Astronomy, Cambridge, UK (DPCI).

GaiaSPECtool can be used on a single Gaia DR3 source or, for registered users only, on a list of sources to:
convert Gaia DR3 mean spectra from a continuous representation to a sampled spectrum, optionally on a user-defined wavelength grid. Sampled spectra can be provided in two data formats:

two separate files, one with the wavelength sampling array, the other containing in each line the sourceId, flux, and fluxerror arrays (in [W m-2 nm-1]);
individual csv files (one for each source), containing 3 columns (wavelength, flux, fluxerror in [W m-2nm-1] or [erg cm-2 s-1

Å

-1]).

Plots of the spectra can also be requested.
Compute synthetic photometry in bands that are covered by the BP/RP wavelength range.
Several sets of filters are included in the package.
The original Gaia DR3 continuous mean spectra are also provided in a single csv file, for use with a local installation of GaiaXPy, if needed.
GaiaSPECtool can be accessed here, through the GaiaPortal DR3 main tab.